Ancestors of Tiltons
Welcome to my web site! Many hours of work have been put into the research and documentation of these ancestors. I hope you will benefit from the information I present here. Carl Tilton Sr. and Nancy (Zalewski) Tilton Has done all the work on this.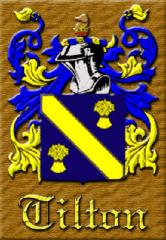 Tilton Branches is based on the extensive work of Carl James Tilton and several others time and effort to build a in depth look into the Tilton Family Line. If you have any additional information please feel free to email us and let us know.
---
Table of Contents
Pedigree Chart for Capt. James Alexander Tilton
Surname List
Index of Names
Sources (Bibliography)

---
Contact Information
Send E-mail to boats@thesticks.com